Thirty-Second session of Command and Staff College held
12-09-2018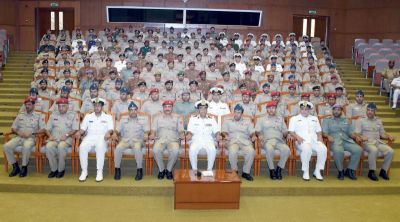 Oman Observer
MUSCAT: The opening ceremony of the thirty-second session of officers of the Command and Staff College was held under the patronage of Brigadier General Abdullah bin Ali al Sulaimi, Commander of the Command and Staff College. The ceremony was held at the headquarters of the College at the Bait Al Falaj Camp.
The Commander of the Command and Staff College welcomed the officers and urged them to persevere and work hard and show their cooperation and team spirit. The Command and Staff College is one of the higher educational institutions of the Sultan's Armed Forces, and is concerned with the rehabilitation of officers from the ranks of the SAF and other security services in the Sultanate.
The college assumes leadership positions at various levels and the officers serve as second-class officers by developing their scientific and military culture. The knowledge of science and skills will enable the staff to carry out future work.
This will be compatible with the fields of progress in military science, modern technology and other fields of knowledge, in addition to the participation of officers of the armed forces in the GCC countries and from other friendly countries. The event was also attended by the Steering Committee of Command and Staff College. — ONA