Address of the Council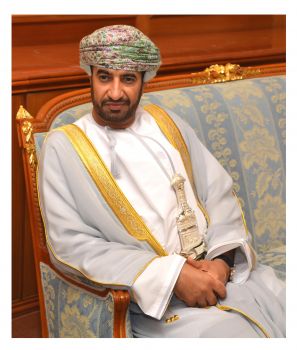 Education is an essential component of all human cultures and a basic element of civilization. Since it is a human value and a base for building individuals' capacities, it produces balanced development of mankind and rational thinking to make best choices with regard to life at present and in the future. Thus, education has always been considered as the starting point for human activities and a requirement for promoting human interconnection. This concept is the substance and essence of the first word revealed to the Prophet Mohammed (Peace be upon him) " Recite" from Allah the Almighty in the Holy Quarn.

The care paid by the Sultanate of Oman to education is apparent throughout its history and in the achievements of its modern renaissance. It is further confirmed and reassured by the general objectives of the Basic Statute of the State which stipulates that education is a main pillar of progress of the Omani society and a granted right for all Omani citizens. Thus, the Omani government worked towards making education accessible to all Omanis all over the country and it endeavors to improve its systems , curricula and outcomes through utilizations of all available capabilities and capacities. This care is driven by the strong will and care of His Majesty Sultan Qaboos bin Said who devotes much care and attention to the education sector and places it as top priority of his wise leadership as His majesty believes that education is the base for raising generations and for progress and development of the Omani society. It is also considered as the main pillar for development of national human resources who are capable of contributing to realization of comprehensive economic and social development.

Since the first days of the Omani renaissance, educational plans were directed towards spreading educational services in a way that copes with development plans of the State. The process of qualitative and quantitative development of the educational system in the Sultanate of Oman continued throughout past years in its forms, levels and components. This process contributed to the creation of a learned society which is capable of achieving progress and advancement, and which appreciates the roles of citizens and their efforts. This knowledge-based society shall encourage development of individuals' skills and competencies to be more creative, innovative, productive and effective, the thing that shall eventually lead to comprehensive development and progress.

The development process is led by an institutional structure which is reflected in establishment of various ministries and specialized councils, authorities, schools, universities, colleges and institutes, both public and private, working within an integrated system to provide education and to manage its system. Meanwhile, working on improvement of educational programs, plans, curricula and courses is going on as well as diversifying methods and approaches of educational assessment and evaluation. On the other hand, efforts are made to activate services and approaches which support the teaching learning process in a way that incorporates technological and knowledge developments in all fields, and allows interacting with scientific, cultural and social changes of this era in a realistic manner.

In 2012, the Sultanate of Oman crowned its efforts of development of the education sector by the establishment of the Education Council following the period during which the Higher Education Council played an important role in development of higher education since 1998. Thus, the Education Council becomes the umbrella under which all educational institutions operate. The Council is responsible for drawing up policies of education at all levels as well as directing, following up and evaluating its plans and paths in a way that matches the general policy of the State, meets requirements of development and achieves scientific, cultural, economic and social objectives of the Sultanate of Oman.

During the last period, the Education Council has achieved many achievements and initiatives. The Council is working at present on several projects which shall make remarkable qualitative shift in different paths of education and shall upgrade efficiency of educators and implant the culture of quality and improve performance.

It is well recognized that the progress of any society and the future of any nation cannot be achieved without human resources development that are capable of bearing their national responsibilities to raise standards of living and to realize advancement of the State. Such tasks require huge investment of all parties and at all aspects in education, training and rehabilitation since education is considered as a national concern and a common responsibility of individuals and families as well as of public institutions and private establishments. This calls upon us to work hard and cooperate to improve all forms and levels of the educational system ensuring making positive revenues for the country and the citizens and consolidating the international position and reputation of the Sultanate of Oman. Therefore, and through the Education Council website, we call upon all to play their roles and bear responsibilities in this respect and to contribute to leading education and its outcomes to the desired standards.
Khalid bin Hilal bin Saud Al Busaidi
Minister of the Diwan of the Royal Court
Chairman of the Education Council