MoE launches first-aid training in schools
16-09-2018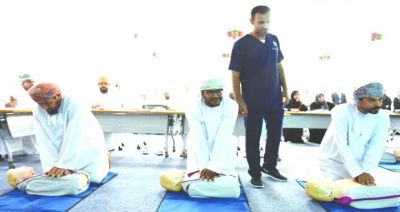 Oman Observer
Muscat, The Ministry of Education (MoE) has launched a first-aid training programme for schools in collaboration with the Ministry of Health and the PDO. The event took place at the MoE's headquarters under the auspices of Dr Ali bin Talib al Hinai, Under-Secretary, Ministry of Health for Planning Affairs.
Dr Hamoud bin Khalfan al Harthy, Under-Secretary of the Ministry of Education for Education and Curricula, and Abdul Amir al Ajmi, Executive Director of External Affairs at PDO and Value Creation, were also present.
The programme aims to train students, teachers, school health nurses and staff of educational and health directorates in all governorates, said Ali al Dhahli, Director-General of the Directorate-General of Educational Programmes at the Ministry of Education and the Chairman of the Joint Committee for implementation of the provisions of the First Aid Training Agreement. In contract with the Medical Conference Centre (MTC), the programme will train 2,500 trainees, 1,500 teachers, and students in the educational governorates, besides health directorates' staff in the governorates.
The training will last for three years (2018-2020). A total of 1,150 first-aid kits will be provided to the schools.
Engineer Abdul Amir al Ajmi, Executive Director of External Affairs and Value Creation at PDO, said, "The company's support for the first-aid programme is part of our endeavour to create a safe environment for citizens to practise social and educational activities. This is not possible through the provision of physical facilities alone, but through the instilling of a culture of health and safety in the humans first."
He said this is best accomplished through the school environment. "It is not only primarily an educational environment, but also a large community of students, teachers, administrators, nurses and others."
The programme will include rehabilitation of 300 teachers and nurses in basic life support. They will also receive a certificate from the American Heart Association. Trainees are supposed to become trainers in different schools.