SQU orientation day for new PG students
18-09-2018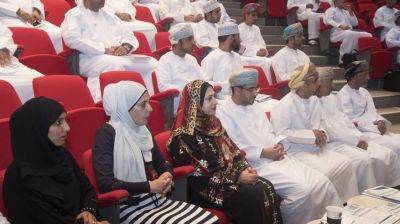 Oman Observer
MUSCAT: The Deanship of Postgraduate Studies at Sultan Qaboos University organised an orientation day for the new postgraduate students for the academic year 2018-2019 on Monday.
The orientation day seeks to familiarise the new students with the academic regulations of postgraduate studies at the university, and to allow students to discuss topics of higher interest. The programme was attended by university departments related to postgraduate students such as the Main Library, Deanship of Research and Student Guidance Centre.
Welcoming the new students, Dr Rahma bint Ibrahim al Mahrooqi, Deputy Vice-Chancellor for Postgraduate Studies and Research, called upon the students to work hard, taking responsibility for their studies and knowing the rules. The deputy vice-chancellor advised the students to practice academic integrity throughout their studies and research work.
Speaking on the occasion, Prof Abdullah bin Khamis Ambusaidi, Dean of Postgraduate Studies, gave an overview of the Deanship of Postgraduate Studies and its role in facilitating postgraduate studies at the university.
The Deanship, he said, mainly supervises the implementation of SQU postgraduate academic guidelines and policies and support the university to graduate students with a high level of qualifications.
The Deanship meets the needs of students who wish to enhance their knowledge and innovation and acquire the necessary skills to work.