Scientific research, innovation discussed with AAAS delegation
27-09-2018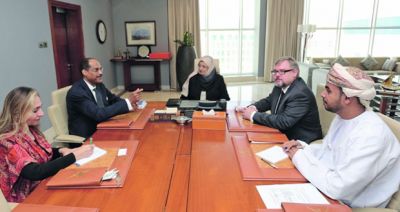 Oman Observer
MUSCAT: Dr Rawya bint Saud al Busaidiyah, Minister of Higher Education, on Wednesday received a delegation from the American Association for the Advancement of Science (AAAS) which includes Albert Beckford Jones, Special Advisor to AAAS and Charles Dunlap, Director of the Research Competitiveness Programme at AAAS.
The meeting reviewed proposals for joint cooperation including the setting up by AAAS of workshops and training programmes the higher education institutions in the Sultanate to increase the students' awareness about the importance of innovation and scientific research in addition to another proposal to set up training workshops to qualify academics and researchers on the skills of scientific research and publication with the aim of contributing to the development of knowledge economy.
It also discussed the possibility of implementing workshops on entrepreneurship in order to bolster the higher education institutions attention to the entrepreneurship field.
The minister of higher education underscored the importance creating mechanisms for the evaluation and follow-up of the programmes and workshops output. She noted that such programmes will serve the developmental efforts of the Sultanate through improving the chances of national cadres to acquire experiences in the international scope.
The American Association for the Advancement of Science (AAAS) is the world's largest multidisciplinary scientific society and a leading publisher of cutting-edge research through its Science family of journals, AAAS has individual members in more than 91 countries around the globe. Membership is open to anyone who shares our goals and belief that science, technology, engineering, and mathematics can help solve many of the challenges the world faces today. You can lend your support to our efforts on behalf of scientists, engineers, educators, and students everywhere by becoming a member. — ONA