Four Omani students design facial recognition eyewear
27-09-2018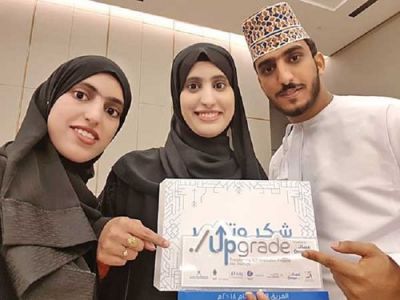 Muscat Daily
MUSCAT - Four Omani students have developed an eyewear based on facial recognition technology to aid security agencies in fighting crime.
The 'Biometric Innovation' project comprises four Middle East College students - Naama al Siyabi, Najla al Siyabi, Faisal al Badaai and Ismail al Siyabi.
Speaking to Muscat Daily , Naama al Siyabi, head of the team, said, "Our project is called 'Biometric Innovation'. It's a smart solution to aid the ROP in criminal investigations. The eyewear has a hidden micro camera for clicking images of any suspect. The images are transmitted to a mobile phone via Bluetooth to begin the process of matching information stored in the database."
Naama said that countries across the world are developing smart solutions to strengthen security systems. "In this sense, the face recognition system is a smart solution designed specifically to support police work, especially at airports and elsewhere to identify suspects via their faces. In addition, this smart solution will help arrest criminals in a short time.
"This solution will help the police in ensuring that those residing in the sultanate are registered or in cases where there is a notice against someone. In short, a policeman can wear the glasses, walk in markets or airports, and scan the suspect's identity and collect details easily. The prototype has been submitted to the ROP and they are quite enthusiastic about it."
She said, "The challenge was in getting the algorithm right to solve the problem. We solved it by combining more than one algorithm to achieve accuracy."
On future plans, Naama said, "Now, we are going to apply for the patent after coordinating with The Research Council's Upgrade Program. We are keen to work on the algorithm to achieve a better speed."
On her advice to Omani students, she said, "If you have an idea, work on it. Convert it into a product so that it benefits the society and the country. I would like to thank my family, my project supervisor, the team members, the ROP, the Upgrade Program and all the sponsors."