Winners of annual Shell Road Safety Awards announced
01-10-2018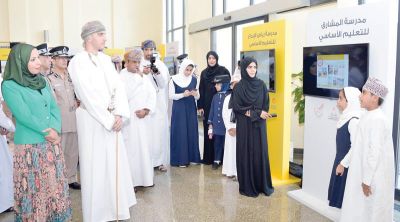 Muscat Daily
MUSCAT - Shell Oman together with the Ministry of Education hosted the 13th annual 'Shell Road Safety Awards' ceremony under the patronage of H H Sayyid Kamil bin Fahd bin Mahmoud al Said, assistant secretary general of the Office of Deputy Prime Minister for the Council of Ministers.
The event was at held at the ROP Traffic Safety Institute. The ceremony awarded sixteen schools and three Regional Directorates of Education for identifying and implementing innovative ways to raise awareness on road safety. The event was attended by H E Dr Madeeha bint Ahmed bin Nassir al Shaibaniyah, Minister of Education and officials from the ministry as well as public and private sector partners.
The winners of the first place were, Reyad al Ebdaa Basic Education School (North Batinah), Ka'ab bin Malik School (North Batinah), Al Hoqaien School (South Batinah) and Rawdhat al Falaj Private School (North Batinah).
Held in collaboration with the Ministry of Education, Sultan Qaboos University and the ROP, this year's nationwide road safety competition attracted more than 500 schools making up 30 per cent of schools in the sultanate. The initiative reflects Shell's commitment to ensuring the safety and well-being of school students across the country.
Teams exhibited their work through a number of mediums including plays, art works, and videos. Winning schools were assessed based on two main criteria: how sustainable and impactful their projects are on the community and how integrated their teamwork was.
The award ceremony also included an exhibition of the winning projects where students showcased their exemplary initiatives and activities.
In addition, the 2018-2019 Shell Road Safety Awards was announced focusing on safety around the school campus with a particularly emphasis on the safety of children in school busses. This year's winning schools will also be eligible to compete for the newly introduced 'Sustainability Award' in the 2019 edition with RO3,000 at stake.
Amna al Balushi, assistant secretary general, Oman National Commission for Education, Culture and Science and chairperson of the Shell Road Safety Awards Committee said, "Our responsibility as educators goes beyond the textbook. We have an obligation to educate future generations on a variety of life skills including road safety.
By incorporating 'Shell Road Safety Awards' as a staple programme into our schools, we are shaping our youth to become responsible citizens and eventually, responsible drivers and passengers. As we guide them to understand the importance of road safety, we are creating a social impact that, I am confident, will continue to be passed on to future generations."
Muna al Shukaili, general manager of External Relations and Social Investment Lead at Shell Development Oman said, "It is important that we continue to make a positive impact on our communities. Road safety is a priority in Shell's social investment programmes and most importantly key to keeping our families safe. Through simple yet impactful initiatives such as the 'Shell Road Safety Awards' we are creating opportunities for students to learn the importance of road safety in a unique, fun and rewarding way. By working responsibly and in close collaboration with children, government officials and the private sector, we can instill a strong safety culture that will contribute to the safety of Oman's roads and its people."
Muna said, "This year's competition was in line with the digital transformation we are witnessing around us. Registration and evaluation was online, the competition went viral on social media, where hashtags were trending with more than 260,000 engagements from different schools. The road safety messages developed by the students sent shockwaves on social media platforms, raising even more awareness."
Earlier this year, Shell worked alongside its partners PDO, Oman LNG, and Shell Oman Marketing to launch the National Campaign for Child Car Seats which was led by Oman Road Safety Association (ORSA).
- Basic education schools:
Reyad al Ebdaa Basic Education School (North Batinah)
- Primary schools:
Ka'ab Bin Malik School (North Batinah)
- Secondary schools:
Al Hoqaien School (South Batinah)
- Private schools:
Rawdhat al Falaj Private School (North Batinah)