Madiha concludes two-day visit to Qatar
23-10-2018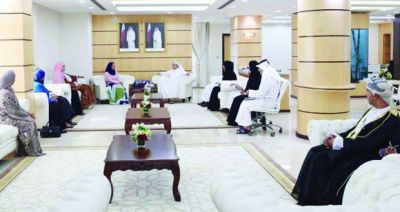 Times of Oman
Doha: Dr. Madiha bint Ahmed Al Shaibaniyah Minister of Education concluded yesterday her two-day visit to Qatar.
During the visit, the minister met with Dr. Mohammed bin Abdul Wahid Al Hammadi, Minister of Education and Higher Education in Qatar.
The meeting dealt with joint cooperation between the two sides within the framework of the sixth executive programme of cultural and educational cooperation agreement between Oman and Qatar (2015-2018), thus enhancing the exchange of experiences between the two countries.
The Minister was briefed on Qatar Science and Technology Secondary School for Boys (QSTP) based on the full integration of science, technology, engineering and mathematics to enable students to develop their skills in research, design, critical thinking, problem solving, and building their creative and competitive capacities.