Omani Teacher Educational Excellence Award launched
25-10-2018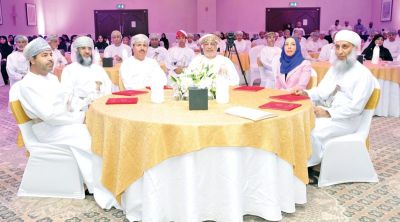 Times of Oman
Muscat: The Ministry of Education yesterday launched the Omani Teacher Educational Excellence Award in a ceremony held under the patronage of Dr. Yahya bin Mahfoudh Al Mantheri, Chairman of the State Council, in the presence of Dr. Madiha bint Ahmed Al Shaibani, Minister of Education and Sheikh Abdullah bin Nasser Al Bakri, Minister of Manpower at the Crowne Plaza Hotel.
Dr. Yahya bin Mahfoudh Al Mantheri thanked the Education Council and the Ministry of Education for the efforts exerted to come up with this award. He also praised the role of Omani teachers and expatriates working in the education field in the Sultanate for their efforts, adding " This award is only one step in raising the level of performance of the Omani teacher in the field."
Dr. Yahya bin Mahfoudh Al Mantheri launched the award logo, followed by a presentation about the award. Faisal bin Ali Al Busaidi, Assistant Director General of Information Technology for Digital Systems and Services at the Ministry of Education, gave a presentation on the contents of the website of the award.