Health Minister Receives American University Health Sciences Faculty
29-10-2018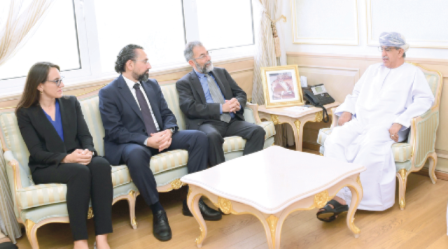 Oman News Agency
Muscat, Dr. Ahmed bin Mohammed al-Sa'eedi, Minister of Health received in his office today a delegation from the Faculty of Health Sciences at the American University of Beirut.
The meeting discussed aspects of cooperation in areas of health research and fields.
The Minister of Health gave a briefing on various levels of healthcare in the Sultanate. The visiting delegation also met with Dr. Ali bin Talib al-Hinai, Undersecretary of the Ministry of Health for Planning Affairs. Dr. al-Hinai gave a detailed explanation on research and studies of the Ministry of Health, as well as some indicators and information issued by the ministry.
He also briefed the visiting delegation on the ministry's future strategy for health system (Health 2050).
The delegation visited Al Khuwair Health Centre as a live model as part of primary health care system in the Sultanate The visiting delegation gave a lecture at the Royal Hospital in Muscat about social and political factors of health in the Arab World.
The delegation will also hold similar meetings with other government institutions concerned with health, health research and studies.