More than 295 students graduate from Rustaq College
30-10-2018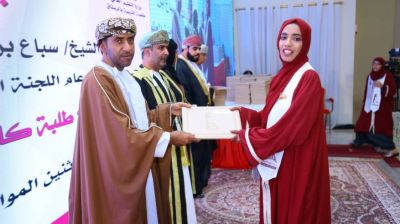 Oman Observer
Rustaq, Rustaq College of Education held a graduation ceremony of 298 students at Rustaq Hall on Monday. The ceremony was presided over by Shaikh Sibaa bin Hamdan al Saadi, Secretary-General of the Supreme Committee for Celebrations of the National Day.
College Dean Dr Ahmed al Badri, who delivered the Ministry of Higher Education's speech, said: "The Ministry of Higher Education emphasises in its vision and mission the importance of upgrading the graduates' qualifications, competencies and skills in order to meet the needs of sustainable development and the process of growth and development.
" Amani al Maamari, Marwa al Hajri, Mahra al Salti and Wisal al Fakhri were honoured for their outstanding academic performance.