The 28th Arab Engineering Conference Kicks off
12-12-2018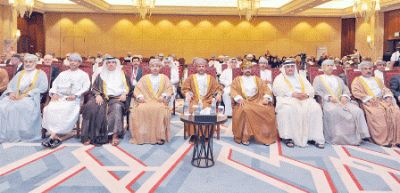 Oman News Agency
Muscat, The 28th Arab Engineering Conference ,entitled "The Impact of Engineering Education on Building Knowledge-Based Economy in the Arab World," kicked off today under the patronage of Sayyid Dr. Fahd bin Al Julanda al-Said, Assistant Secretary General for Innovation Development at the Research Council. The three-day conference highlights the importance of university education in the graduation of engineers and providing the labour market with high skilled engineers.
The chief guest affirmed that the importance of the conference represented in advising universities and educational institutions by professionals in the labour market and the sector's need for the trends and specialties required by the labour market.
Eng. Khamis bin Salim al-Suli, Chairman of the Oman Society of Engineers (OSE), delivered a speech at the beginning of the opening ceremony during which he said that OSE looks forward to further cooperation in supporting the joint Arab action and strengthening the partnership efforts among different associations and unions of engineers in the Arab world.
Eng. Ahmed bin Salim al-Jolo, Chairman of the Federation of Arab Engineers said that engineering education is an important element of development in the Arab world to catch up with the countries of the developed world. He pointed out that the conference presents ideas and opinions that will focus on the subject of engineering education in the Arab countries.
The first workshop, which discussed the accreditation and its implications, focused briefly on the accreditation and its effects, preparing for accreditation and developing the system of continuous improvement of higher education programs.
The second workshop focused on teaching STEM skills through robots that aimed at professional development of those interested in using robotic groups to explore Science / Technology / Engineering / Mathematics through practical activities and learn how to enhance students' mathematical thinking, design thinking and problem solving skills.
The third workshop dealt with active learning strategies aimed at providing participants with frameworks based on a set of teaching and learning principles and strategies to enable participants to adopt these principles and strategies to develop effective methods and examples to develop or review learning objectives in the training course. The workshop also dealt with identification of methods of learning and the application of active learning methods in the course.
The fourth workshop focused on the professional licensing of engineers in Jordan.
A group of Arab academics and engineers from more than 18 countries are taking part in the conference, which provides a platform for all those interested in engineering education from academics, researchers, engineers and those interested in practical research to present and share their experiences and information on modern methods of engineering education and best practices in this field.