Workshop teaches SQU faculty seafloor mapping technique
25-12-2018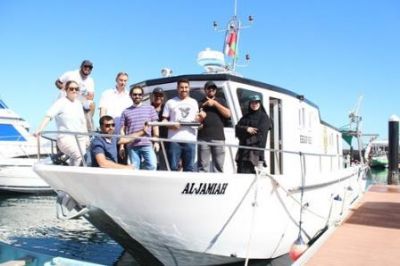 Muscat Daily
MUSCAT - The Department of Marine Science and Fisheries (MSF) at the College of Agricultural and Marine Sciences (CAMS) hosted a workshop on using side-scan sonar (SSS) to efficiently create images of large areas of the sea-floor. CAMS under the Sultan Qaboos University (SQU) hosted the workshop to teach MSF faculty and staff.
The workshop was organised by Dr Alyssa Marshell from MSF with funding received from His Majesty's Trust Fund Strategic Grants to purchase a new side-scan sonar equipment from Deep Vision Sonar Systems.
The owner of Deep Vision, Uffe Langstrom, with assistance from an SSS expert, Dr Kaveh Samimi Namin (Naturalis Biodiversity Center, the Netherlands), taught MSF faculty and staff how to use the side-scan sonar.
Side-scan sonars emit pulses down towards the seafloor across a wide-angle while being towed from a boat. The sonar records the intensity of the acoustic reflections of the pulses from the seafloor.
When stitched together along the direction of motion, this data forms an image of the sea bottom within the coverage width of the pulse beam. Side-scan sonar is used to conduct surveys of the seafloor, and in conjunction with seafloor samples, it provides an understanding of the different types of materials and textures of the seabed. Side-scan sonar imagery is also commonly used to detect obstructions on the seafloor that may be hazardous to shipping, or for seafloor installations by oil and gas industry.