Oman, WEF tie up for 'Future of Skills' initiative
27-01-2019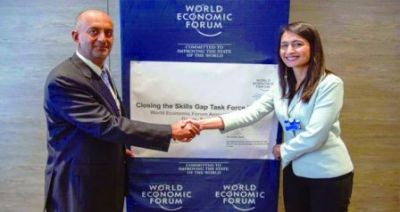 Oman Observer
MUSCAT, The World Economic Forum (WEF) has announced its partnership with the Sultanate for the 'Future of Skills' initiative.
The initiative the Annual 2019 Meeting in Davos was inaugurated with a signing ceremony lead by Dr Ali bin Masoud al Sunaidy, Minister of Commerce and Industry and Deputy Chairman of the Supreme Council of Planning, and Saadia Zahidi, member of the Managing Board and Head of the WEF's Centre for the New Economy and Society, signed the agreement in this regard at the annual meet in Davos.
The initiative aims to address the labour market changes anticipated from the Internet of Things, 4th Industrial Revolution (4IR) and other technological advancements by facilitating public-private collaboration to close the skills gap in line with the private-sector needs.
It will help increase work readiness and soft skills among children and youth, including adaptability, creativity, communication and teamwork, basic digital know-how, basic coding, media literacy, data interpretation and so on, and build relevant job-specific skills.
Dr Al Sunaidy said, "As we move through the technological advances, skills required across all industries will evolve with new jobs being created demanding a dynamic workforce." He said Oman was interested in the area under this two-year partnership with WEF.
The partnership with Oman is the third 'country-led' public-private collaboration undertaken by the WEF's 'Closing the Skills Gap' platform, and the first in the Middle East and North Africa.
It allows pilot countries to gather business commitments that address future-oriented skills development and at the same time support a multi-stakeholder public-private dialogue on enhancement of education systems and skills development to prepare workforces for the future jobs.
On the occasion, Zahidi said, "Preparing for the future of work requires proactive collaboration on the part of the public and the private sector. The World Economic Forum provides a platform for countries interested in piloting an accelerated approach to anticipating and managing the future of work. We are very pleased that Oman will be joining this platform to support its ambitious growth and skills agenda."