Nama Group's electrician training programme concludes
30-01-2019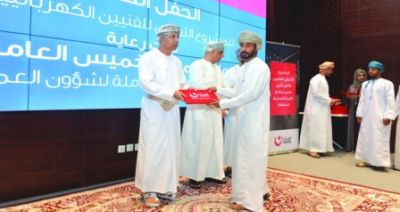 Times of Oman
Muscat: Nama Group (NG), a government-owned entity, engaged in the transmission, distribution, supply and procurement of electricity and its related water services in the Sultanate, concluded the Electrician Training Project aimed at developing Omani talent in the electrical services.
The closing ceremony took place in Tanweer, a member of Nama Group, as part of the group's In Country Value (ICV) programme. The event was held under the patronage of Hamad bin Khamis Al Amri, Undersecretary of the Ministry of Manpower for Labour Affairs, in the presence of Hassan bin Mohammed Al Lawati, Chairman of Nama Group BoD, CEOs and executive managers of the Group, and key officials from parties concerned.
The main goal of the training programme was to enhance the participants' knowledge and capabilities, enabling them to meet the requirements of licences needed to work in the electricity sector. Therefore, the participants will be able to exploit the employment opportunities of the contractors working for Nama Group or establish their own businesses. Nama Group conducted the training from May to November 2018 to rehabilitate and develop Omani electricians' competencies and skills in the sector. The training programme was aimed at increasing the percentage of Omani electricians by 20 per cent.
The initiative was presented by Numo Institute for Competency Development (NICD), member of the Nama Group, for 75 trainees, divided into four different batches. The programme included induction on electrical engineering and HSE, site training on service wiring, Oman Electrical Standard Course, in addition to other relevant subjects.
The programme was initiated based on the analysed study carried out by the Group, resulting in valued potential to the ICV in the Sultanate. Previously, only five per cent of Omani applicants were able to pass the required tests in order to obtain the licence to work in electricity fields. After the project implementation, the percentage increased to reach 80 per cent of total applicants and 60 of them were able to enter the market, which indicates the efficiency and success of the project.
Within the economic objectives of the Group's sustainability policy, Nama Group continues to promote the ICV concept to develop human resources, local products, SMEs and ensure knowledge sharing through the group's initiatives and programmes. It is worth mentioning that the group is actively seeking cooperation with key institutions concerned to establish integrated projects and programmes, achieve common objectives and effectively contribute to building the national economy.