Student team develops wastepaper pulp for insulating buildings
06-03-2019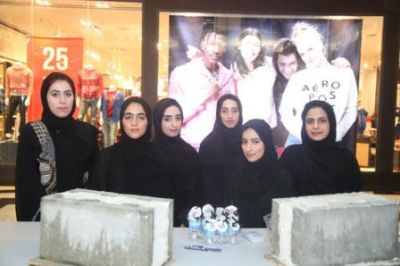 Muscat Daily
MUSCAT - Five students from the Higher College of Technology (HCT) in Al Khuwayr have developed wastepaper pulp which can be used for insulation purposes in construction of buildings.
Speaking to Muscat Daily , Safa Musabah al Ghafri, head of the team said, "All five of us are pursuing civil engineering in HCT. We worked on a project Soundproofing and Heat Insulation Concrete (SHIC). We worked on the project for six months."
Talking about the idea of the project, she said, "Bricks used for construction are hollow which allow the heat to remain trapped. Filling these bricks with wastepaper pulp doesn't let the heat and sound in.
"We have tested it quite extensively and found to be quite useful. Our project won the first place in Nama Ambassadors Competition."
Safa said that the whole process is environment-friendly. "We thank Nama Group and supervisor Omaima al Hosni for their support to the project."
Speaking about future plans, she said, "We aim to set up a company and work on more such projects."
Other members of the team are Majda Amur al Khatri, Safiya Harib al Shamsi, Rasha Rashid al Huseini and Safana Saif al Maskari.