MTC, SQU Sign Program of Understanding
13-03-2019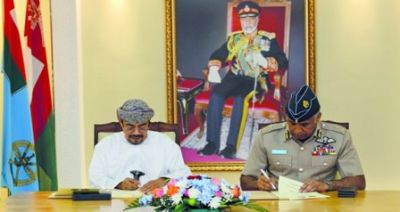 Oman News Agency
Muscat, The Military Technological College (MTC) signed a program of understanding with Sultan Qaboos University (SQU) within MCT plans for research and scientific cooperation and academic exchange.
The program of understanding was signed by Commodore Matar bin Ali al-Obaidani, Commander of the Royal Air Force of Oman (RAFO), MTC Chairman of the Board and Dr. Ali Bin Saud al-Baimani, Vice Chancellor of SQU.
The program of understanding aims at cooperating in research projects and scientific theses in various degrees, motivating the academic cadres and students to conduct joint research, participate in the proposed programs, develop scientific and applied research, support research conducted by students and researchers and enable them to use laboratories on both sides, in addition to cooperation in conducting lectures, training workshops, and organizing specialized conferences related to engineering sectors.
Vice Chancellor of SQU was briefed on MTC, its facilities of study and service, its modern technologies, curriculum, disciplines and different stages of study.
The signing of the program of understanding was attended by the MCT Dean, his deputies, heads of departments and a number of officials from both sides.