Omani girls win gold medal at an international exhibition
15-04-2019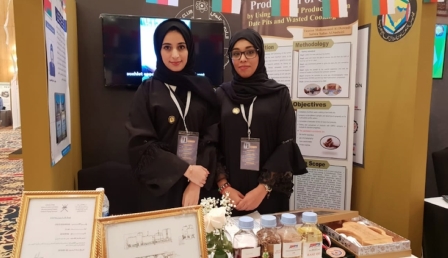 Times of Oman
Muscat: Two Omani girls win gold medal in the International Innovation Exhibition in Geneva.
About 800 inventions from 46 countries were showcased at the exhibition. Tasneem and Salma's invention titled "Extraction of environmentally-friendly oil from waste of dates and used cooking oil" was presented and has been patented as well. The oil is for use in the drilling of oil wells.
The idea of the invention is to convert daily waste into a material that has economic value and can be used in one of the most important industrial sectors today, that is oil and gas sector," said Tasneem Al Dawoodi.
She added: "The project went through a number of stages of development and after we obtained positive results, the idea was transferred to the field of entrepreneurship and became a real project that can produce this material and use it practically in the field."
The Ministry of Commerce and Industry has registered a new patent of the production of oil extracted from the kernel of dates and waste kitchen oil.
Salma Al Sudairi added, "We have learned about the patent system by participating in seminars organised by the Ministry of Commerce and Industry in colleges, and in public and private organisations, as well as through social networking sites."