CMA sends finance students for training in Arab countries
17-07-2019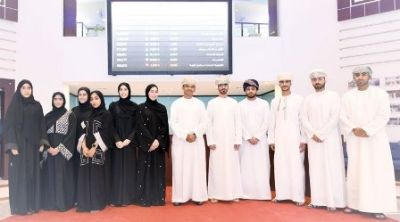 Times of Oman
Muscat: The Capital Market Authority (CMA) in collaboration with Sultan Qaboos University (SQU) represented by the college of Economics and Political Science send a number of students for practical training at securities and insurance commissions in Arab countries to acquaint them with the nature of work in securities and insurance markets to prepare them for the work market.
Abdullah Salim Al Rabiei, Director of Media and External Relations said on the concept and benefit of the training, "Dispatching students for training in Arab commissions with which CMA has memoranda of understanding is to achieve cooperation in a number of fields including exchange of expertise in the stock markets and providing training opportunities for national cadres to attain skills and aptitude to qualify them for the work market."
Al Rabiei added that CMA agreed with a number of Arab commissions to host the students of Economics and Political Science of SQU for training.
He said the students commenced the training programme in the Moroccan Supervisory Authority for Insurance and Social Security , the Insurance Authority of the United Arab Emirates and the Jordanian Securities Commission. The training period is one month.
The two month training commenced with orientation week at CMA to acquaint the students with the Omani capital market and insurance sector and their regulatory and supervisory legislations then the student travelled to the specified countries and when they return they will resume the programme at the CMA and SQU to prepare the reports and presentations on their experience with CMA and the hosting countries.