SQU opens doors to 3,070 students this academic year
26-08-2019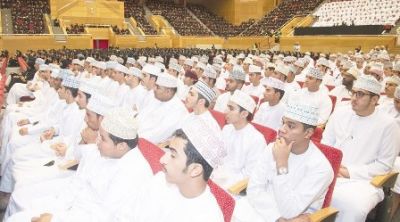 Muscat Daily
MUSCAT - The Sultan Qaboos University (SQU) opened its doors to as many as 3,070 new students for the academic year 2019-20. The induction week for the 34th batch commenced on Sunday.
The students have been admitted to 65 undergraduate programmes offered in nine colleges of SQU. The induction programmes include several activities by different units: Deanship of Admissions & Registration, Deanship of Student Affairs, Centre for Preparatory Studies and others at the Grand Hall of SQU Cultural Centre. The university has allocated 24 seats for students with disabilities.
Addressing the new batch of students at SQU, Dr Mohammed bin Hamed al Saadi, assistant dean of admissions and registration for admission and technical support, called upon the students to be punctual and be fully committed.
He added that SQU is working hard to provide all the necessary services for its students to help them excel in their academic pursuits and become innovative and efficient.
Dr Badria bint Ibrahim al Shehhi, director of Preparatory Studies Centre, briefed about the foundation programme at SQU, a mandatory requirement for all students. The programme is designed to prepare the students in accordance with the academic standards of the Omani Authority for Academic Accreditation.