Five Omani girls look to power car with a chemical reaction
06-10-2019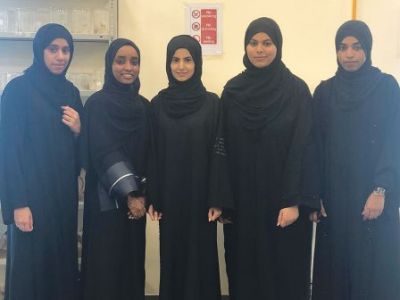 Muscat Daily
Five Omani girls from the Sohar College of Applied Sciences are working to develop an alternative system to run vehicles using chemicals that may one day replace fuel. Once complete, the girls will take their car project named 'Chem Car' to Chem-E-Car Competition organised by AICHE in Bahrain that will be held in mid-October.
Speaking to Muscat Daily, Yusra al Ghassani, one of the girls, said, "There are people who drive cars with solar energy and electricity, and others who drive them with water and hydrogen but our idea is to use chemical energy source to generate pressure that can move the vehicle."
Yusra said the project is currently under development. "We are still developing the design and controlling the amount of materials used, so that the vehicle can achieve the required distance," she said.
Yusra and other four girls - Muzna al Dhohli, Zainab al Ajmi, Rahma al Abri, and Maram al Fazari - specialise in chemical engineering. They believe that carbon dioxide can be eliminated by adding dried ice, and the chemical reaction can be used to produce pressure which is the key to driving a vehicle over a certain distance. "The idea of the project came through after we wanted to join the Chem-E-Car Competition," Yusra said.
According to the students, because of the high fuel prices and the volume of environmental pollution caused by the use of conventional fuels, there is a need to find solutions to replace traditional fuels and find renewable materials to move vehicles.
"Moving the car with a chemical reaction of renewable materials is considered an alternative to replacing conventional fuels, due to their high prices and environmental damage," Yusra said.
The interaction used in the car is known previously, but its use in moving a car is a new idea. "Such projects are expected to take more time to be accepted by the public, because the materials that will replace the fuel are not as powerful for now. More research needs to be done," Yusra said.