Ministry of Education seeks to lighten school bags of students
06-10-2019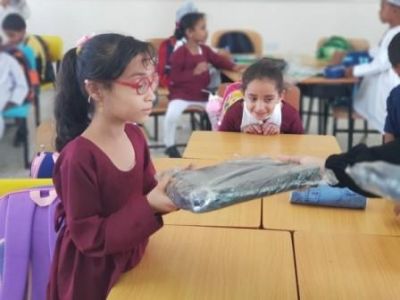 Times of Oman
Muscat: After heavy school bags were identified as being 'troubling' for children in Oman, the Ministry of Education is ramping up its efforts to lighten the load by telling schools to focus on parts of the curriculum each day and to ask students and parents to only bring what they need on that day.
Schools have been directed to spread out their subjects, implement worksheets in school so that children could leave more books at home, and also designate a storage area in the classroom for students to leave some of their books in class. Assistant Director for the Department of Guiding Programmes at the D.G of Educational Programmes, Dr Radhiyah Al Habsi, said, "The Ministry is working to provide the right environment to schoolchildren. Part of this is by raising health awareness about the right kinds of schoolbags and the requirements that parents and children should keep in mind
"The ministry has sent out a circular about how to lower the load of schoolbags for children who are in primary school. This circular called on schools to focus on some areas by using single-skill subjects as best as they can. These single-skill subjects would be spread out along the week, rather than all coming on the same school day."
According to her, schools should make an effort to present worksheets in the classroom to replace the need to bring books. Students will come to class and fill out the worksheets that their teacher hands out, allowing more books to remain at home for studying from.
She said, "Furthermore, the circular addressed using the concept of in-house work and homework and using this instead of making the children bring their school book to school."
Al Habsi also spoke about the importance of lockers, or even a spot in the classroom where kids could leave some of the heavier books during the school day.
"On top of that, classrooms in schools should have a place that is suitable to store books and tools, so long as the school is able to do so, and primary school teachers were directed to only designate one notebook for students for each field of study or subject," she added.
Mutassim Al Balushi, the assistant director of the department of Educational Supervision at the D.G of Human Resource Development, also said that the school books themselves should be regulated and that the ministry has come up with specifications to keep schoolbooks lean.
He said: "The department has issued a number of recommendations for schoolbooks and homework, such as: Putting multiple subjects in the a notebook with a maximum of 60 pages, or replacing some notebooks with worksheets that teachers can hand out, and then keep in a file at the school, or spread out some of the subjects over the week.
"A circular by the ministry also regulated how much homework you are allowed to give schoolchildren, making it so that you cannot give schoolchildren homework for more than two subjects for each school day," he added.