Omani students cash in on neem's curative properties
08-10-2019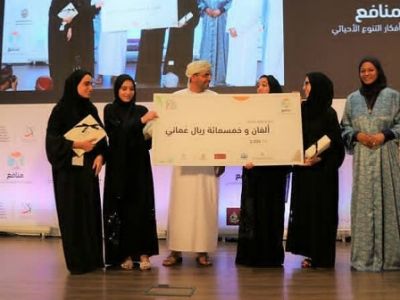 Muscat Daily
Renowned for its healing properties, the good old neem has served mankind for centuries. Its anti-bacterial, anti-fungal and insecticidal properties have given the humble tree a venerable position in many cultures.
Oman, too, now has a good number of neem or shirish trees and has understood its benefits. Four students from the Sultan Qaboos University's College of Science, Tasneem al Maamari, Mariam al Baluchi, Attia al Shahoumi and Marwa al Baluchi are working to extract oil from the neem tree so that it can be used in the production of cosmetics and insecticides. According to market research, global neem extract market was valued at US$653.7mn in 2015 and is expected to grow at a CAGR of 16.3 per cent from 2016-2022, to reach US$1,868.2mn in 2022.
Called Neem Line, the four-member team recently won RO2,500 for their project under the Oman Animal & Plant Genetic Resources Center's (OAPGRC) Manafa'a programme. The Manafa'a programme seeks to boost Oman's entrepreneurial and scientific community by giving them the opportunity to pitch innovative and creative ideas that can be developed into working models.
Speaking to Muscat Daily, Marwa said, "Neem is now available in abundance in Oman and hence it is quite feasible to use oil from its seeds. Neem oil is used for many purposes worldwide such as skincare, agriculture and pharmaceutics."
Marwa is quite clear about the business plan. "We plan to extract the oil from the neem seeds and sell it to local and international companies. The seed cake or the residue after oil extraction is rich in nitrogen and phosphorus and great as fertiliser."
She added, "Innovation Park Muscat will sponsor our project for six months." The team hopes to patent the project and compete in the international market.