TRC Electrical Energy Conservation Competition Ends Concludes
25-11-2019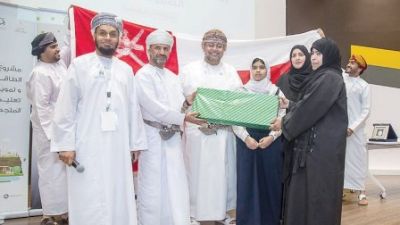 Oman News Agency
Muscat, (ONA) The closing ceremony of The Research Council's (TRC) Electrical Energy Conservation Competition was held at Oman Institute for Oil and Gas at Innovation Park Muscat under the patronage of Sayyid Dr. Fahad bin Al Julanda al-Said, Assistant Secretary General of Innovation Development at TRC.
The competition was organized by TRC in collaboration with the Ministry of Education and funded by Oman LNG.
With 30 schools from the 5 governorates participating at the Electrical Energy Conservation Competition, including North Al Batinah, A'Dakhiliyah, A'Dhahirah, North A'Sharqiyah and South A'Sharqiyah, the top 10 were awarded during the ceremony.
Rayhana bint Zayd Primary School from North Al Batinah came first in the competition as their percentage of electricity consumption throughout the competition period was the lowest among all participating schools, while Imam Ahmed bin Saeed Primary School (North Al Batinah) came second and Um Al Fadil Primary School (A'Dhahirah) obtained the third position.
Other schools in the top ten were Omaima bint Qais Primary School, Abu Hamza Al Shaari Primary School, Souda Um Al Moamenen Primary School, Ibri Primary School, Tanuf Primary School, Omar Bin Al Khattab Primary School and Al Ayoon Primary School.
Dr. Ahmed bin Said al-Busaidi, Director of the Renewable Energy Research Programme at TRC, said, "The competition aims to preserve electricity in the schools of the Ministry of Education by rationalizing the consumption of electrical energy according to awareness programs and systematic activities, transfer experience outside the schools, both in government and private institutions and among the individuals themselves, besides encouraging innovative ideas and collective initiatives in regards to energy conservation."
Furthermore, Khalid bin Abdullah Al Masan, CEO of the Oman LNG Development Foundation, added that "the project aims to provide an integrated educational portfolio containing the latest experiences and the necessary tools that allow students to learn about renewable energy technologies through practical experiments in their schools."
The Electrical Energy Conservation Competition encourages collaboration between the different governmental and private institutions to adopt national projects that support the national capacity building in the Sultanate.